Promosso più due – dodici favole al telefono di Gianni Rodari lette, musicate e illustrate
Un progetto didattico con musiche originali per orchestra sinfonica moderna e orchestra di bambini. | An educational project with music composed for modern symphony orchestra and children orchestra.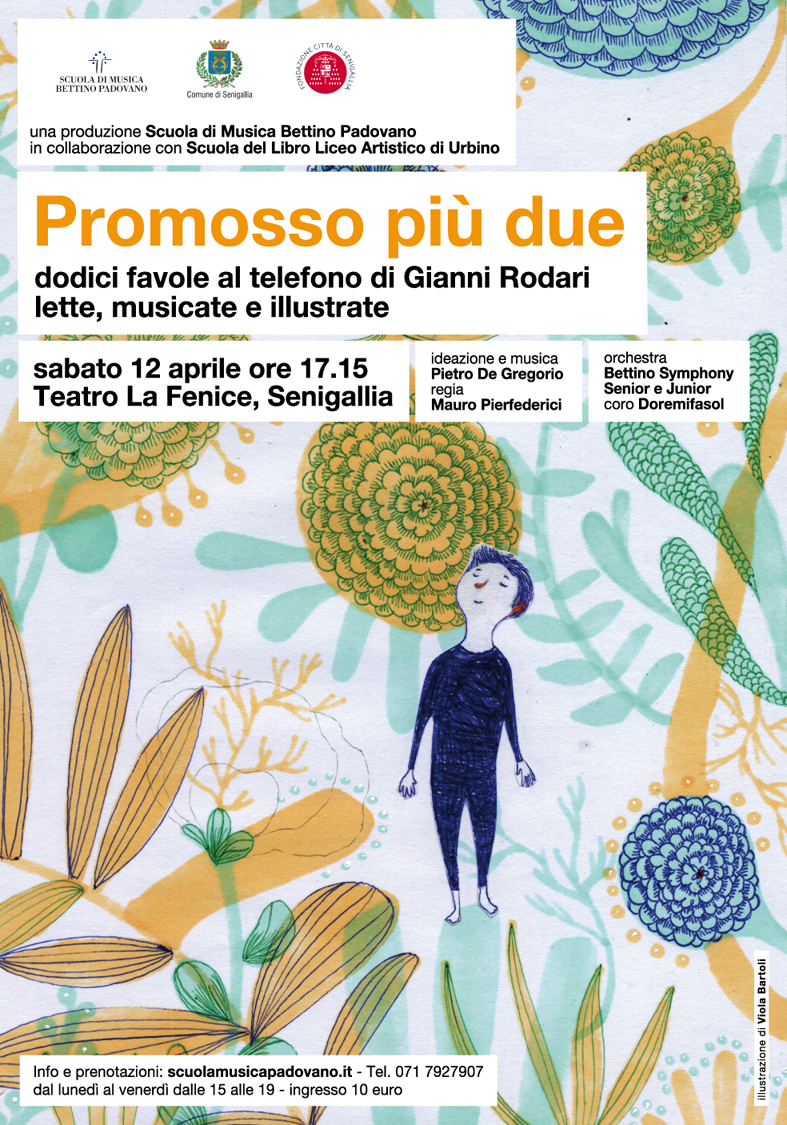 > Download "Promosso più due" programma di sala (jpg)
Video anteprima
Regia e voce narrante Mauro Pierfederici | Ideazione, composizione, orchestrazione e direzione musicale Pietro De Gregorio | Cura dei disegni animati Stefano Franceschetti
Orchestra Bettino Symphony senior e junior + insegnanti della Scuola di Musica Bettino Padovano |  Coro di voci bianche Doremifasol diretto da Chiara Moschini | Con la partecipazione degli alunni delle scuole primarie Rodari e Cesanella di Senigallia | Tecnico del suono Francesco Sardella, Pink House Studios | Disegni Viola Bartoli | Una produzione originale Scuola di Musica Bettino Padovano in collaborazione con Scuola del Libro Liceo Artistico di Urbino
Teatro La Fenice di Senigallia | 12 aprile 2014.
Grazie alla gentile collaborazione di: | Thanks to the kind cooperation with: Mario Placci, Tomas Pierfederici, Antonia Di Capua, Massimo Sinicato (hn), Massimo Morganti (tb), Mauro Rossetti, Gianluca De Felice (tp), Antonio Martino (fl), Raniero Mancini (cl), Gunther Herber (perc), Stefano Tinti (g), Lucia Galli (harp), Annalisa Trizio, Francesca Landi (vl), Michele Vagnini, Roberta Tempesta (vla), Akita Thano (vc), Michele Mantoni (db), Chiara Moschini (choir dir), Paolo Severini (voice).
Posted in orchestra music